We had our much anticipated Gomer family trip to Durango last weekend. It was AH-mazing. Loved every minute of it, and we are so thankful to Debbie and Bill for making it possible for us. Every year they give all of us kids the gift of a weekend getaway (for our birthday and Christmas presents), and this year they have outdone themselves. In the past we have done winter weekends at cute and cozy B&Bs in the mountains, and we spent one great week at a cabin in Yellowstone, and this year, they rented two beautiful cabins on the shores of Vallecito Lake, outside of Durango, CO, and we were all able to share a weekend of fun and family, making great memories together.
Our trip started with a VERY early morning flight from Dallas to Denver, and then a quick (and beautiful) jaunt to Durango. Of course Hayden was beside himself with excitement and was just the cutest person ever on the plane. And Pierce really surprised me with his good behavior (within reason)! Mr. Independent really wanted his own seat, and he spent quite a bit of time trying to forcibly remove Hayden from his seat by the window, but we managed to work it out. He was also obsessed with the stickers I brought, and we all de-boarded in Colorado covered head to toe in smiley face stickers. What fun.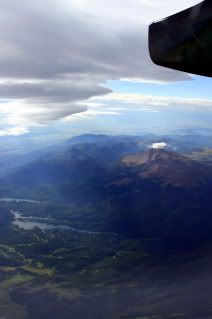 We were on the ground with our rental car packed up by about 10 am MST. Unfortunately (or fortunately depending on how you looked at it), the cabin wasn't available until late afternoon, and the rest of the family (who were driving from various places farther north) weren't going to be arriving until dinner. So Nate and I just decided, what the heck, we may not be back to SW Colorado for a long time, so we might as well take advantage. So with the boys sound asleep in the back seat, we hit the road bound for Mesa Verde National Park. Having done a bit of research before the trip, we knew this wasn't necessarily a kid-friendly place, but we also knew that we don't shy from a challenge, and we figured we'd just see as much as we could. With two semi-rested boys, we embarked on some short hikes, and stopped at some cool scenic overlooks, and managed to take in the best that Mesa Verde has to offer, and it was spectacular! I'm not sure how much the boys actually grasped of what they were seeing, but they certainly enjoyed the great outdoors, and being in a place where you could actually stand in the sun and soak it up with pleasure, instead of diving for the closest place with AC.
I wish I could tell you more about the history and culture of Mesa Verde, but unfortunately we were kind of rushed through because our boys were tired, and a lot of things were off limits for the kids. For instance, we couldn't tour any of the cliff dwellings because they required ladder climbing and things like that. So we kind of just looked from afar and admired the beauty of the place. Nate and I agreed that we'll definitely have to go back and learn more at some point when the boys can participate and appreciate. It's really magnificent that people built structures like this, and lived in such a remote place so successfully.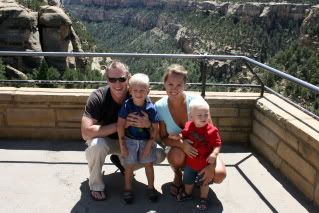 We finally arrived at our cabin that evening, and it was so beautiful! There were a big front porch that overlooked Lake Vallecito, and the boys were thrilled to find a porch swing, which they promptly climbed on with their cousin Brylin. Hayden remembered Brylin from a few months ago when she and her mama came to take care of my boys while we were in Italy. He was absolutely thrilled to be reunited, and I could tell he just adores her. In fact they were good buddies the whole trip. The rest of the family trickled in through-out the evening and Hayden couldn't wait to give his cousin Cameron a big hug (he too visited earlier this year), and then we got to meet our new nephew, Luke, who is only 5 months old and simply adorable! His big brother Liam has grown up so much since we saw him last, and at almost 2, he looks like he could be brothers with my boys with his blue eyes and blond hair. Hayden was rendered completely speechless when Mammaw finally arrived, and instead was reduced to little squeals of delight and a lot of hopping up and down lol. They share a very special bond.
So all 6 cousins were together, and additionally, three of us daughter-in-laws are pregnant! Allison is due with her first, a baby boy, in December. Britt is due with her second, also a baby boy, in October, and of course I am due with mystery baby #3 in February. This family is growing and it's so fun that we can share this experience together.
The whole weekend was awesome, and the kids had so much fun bonding with their cousins and aunts and uncles and grandparents, and spending time outdoors. It was just such a much needed escape, and really Nate and I feel so blessed to have so much love in our lives. This family is very special and unique, and we are lucky (to say the least) to be part of it.
Brylin likes to do group bathtimes with cousins, but I don't think she realized what a menace PJ could be in the tub! After repeatedly splashing everyone senseless, I finally gave him the first thing I could grab, which was my brush, hoping he would play with it and get distracted from splashing. Unfortunately I didn't even realize it could be used as a weapon! This photo actually looks more dangerous than the situation actually was lol, but I do think their faces are pretty darn funny.
Here are the big boys playing on the shores of the lake. PJ and Liam kept playing the mud with sticks and then smearing it in PJ's hair. Boys will be boys!!
The coldness of the water took some getting used (not like the bath water lakes here in Texas), but eventually the boys ventured in and had a blast climbing on the rocks and getting their feet wet.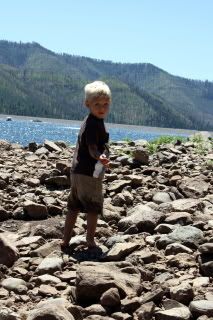 Hayden learned how to play baseball with a t-ball set his Mammaw bought for him. Uncle Dan was an excellent coach, and after a few successful swings with the tee, they decided he didn't need it anymore, and just played baseball instead. Pretty cute! Little sports guy on my hands. Look at this concentration!
I'll leave you with just a few random shots from the weekend of the fam. What a GREAT trip!!! Miss you all tons already.