It seems lately I preface all of my blog entries with the phrase "long overdue", and this one is no exception! Life has been busy since the holidays came and went, and I've finally had a chance to upload some photos, and put together some thoughts about our very special Christmas celebration.
This year was by far my favorite Christmas as a mother thus far, mainly because Piercey was aware of the excitement and spirit of the celebration for the first time, and Hayden was completely taken with the ideas of both Santa and baby Jesus. All around, it was a year of wonderment and excitement for both of the boys, and that added a little extra special touch.
It has been our tradition since moving to Texas to host a Christmas Eve party at our house, and invite our family and friends. So Christmas Eve morning started bright and early with a major holiday meal prep. It's kind of our one night to really cook a nice meal, with no cost or diet restrictions, and to set a beautiful table and just enjoy a night of food. This year we planned a menu of stuffed leg of lamb, candied brussel sprouts, roasted parsnips and carrots, and rosemary potatoes. It was simple, but elegant, and full of foods we don't normally prepare or eat. Fun! The boys (and myself) were completely intrigued by the fresh brussel sprouts we bought - I had no idea that brussel sprouts came on huge long stalks! Ever since a bad childhood brussel sprout experience (umm I was force fed them pretty much and never recovered), I have avoided them like the plague. But I decided I'm 30 now and I can probably let those bad memories go haha. After I cut all of the beautiful, big sprouts off of the main spine of the vegetable, I let the boys play with it like a sword. Pretty funny. It was just one of those mornings where the house smells delicious, the kids were happy and helpful, and the Christmas music was keeping us all in a cheerful mood.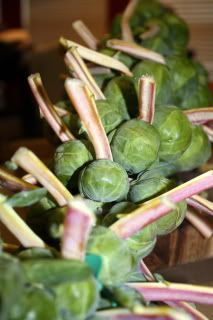 Our friends and family showed up in the evening, and we enjoyed a lovely night together, including spending time with my best friend's new little boy, Nolan, who is about the sweetest gift anyone could get for Christmas. The food was so good, the wine was flowing (for everyone except me!), and we had a great night. Because Santa was bringing an extra special gift for Hayden that could only be assembled in his room, we had to be creative about our sleeping arrangements that night. I remembered back to my own childhood, and how we always spent the night in sleeping bags on the floor of our parent's room. We did this because our house was always so full of relatives, and I have such fond memories of falling asleep beside my brother and imagining all the exciting things Santa would bring for us in the morning. So we decided to continue this tradition for our boys, and we blew up the air mattress, and settled them in for Christmas Eve slumber party in our room. It was SO darling! I came in to check on them later, and they were all snuggled up together, and slept that way the entire night. I love how they are growing into such great friends.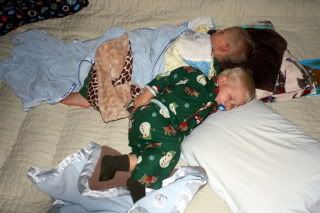 Santa was bringing a brand new big boy bed for Hayden, so we became those parents who stay up MUCH too late trying to assemble complicated toys and items. I had read some reviews that this bed might be time consuming to put together, but of course my husband assured me that with his infinite carpentry skills that he would have it done in no time! Sadly he was mistaken haha. Turns out that his carpentry skills are superb, but his interpreting difficult non-word picture-only directions are not so stellar. Finally at midnight, we put ourselves to bed, content that our children would wake up to a Santa scene worthy of the good boys they have been all year.
And wouldn't you figure, on this of ALL mornings, when Nathan and I were SO excited to see their happy little faces, they slept until 8 am! We were up before them, staring at their cute little sleepy selves on the air mattress, willing them to wake up lol. Finally, they did, and Hayden immediately expressed surprise that he hadn't heard Santa or his reindeer at all! Nate and I were equally amazed by this turn of events, and assured him that Santa is just very quiet. So we all headed out into the living room, where Pierce discovered his brand new ball pit, and they both had beautiful handcrafted wooden step stools with their initials on the sides from daddy. They opened their many smaller gifts from Santa with glee (well Hayden was more excited about gift opening, while Pierce was content to climb up and then throw himself off his stool with abandon over and over), and then we suggested to Hayden that maybe Santa had left presents in other parts of the house.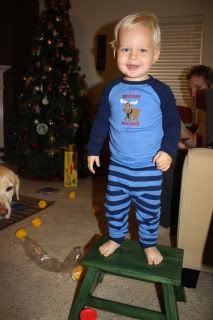 First he checked the kitchen and backyard, then he headed to the front of the house, and his bedroom. Immediately his face LIT up with happiness upon seeing the bed that he had picked out weeks earlier at Ikea. I was a teeny bit worried, because when he saw it at Ikea, it was in it's loft bed form, but Nate and I decided he was a bit too young for a bunk bed, and certainly Pierce could not be trusted climbing up there, so we kept it as a regular bed for now. I wasn't sure how Hayden would respond, but he just zoomed right in the canopy of stars, and was thrilled to death. He was jumping up and down and clapping in delight, and both boys raced up onto the bed to check it out. They even pretended to lay down and sleep together, complete with snoring noises. It was a hit, and continues to be! Later in the day, he opened presents from Gigi of brand new Lightening McQueen sheets, and a cool moon lamp for the wall, which completed the scene. So much fun, and I love that he can now fully stretch out, and stay covered all night long. He does occasionally talk about turning it into a bunk bed when he turns 4 (we'll see about that), but for now he is very content with Santa's gift.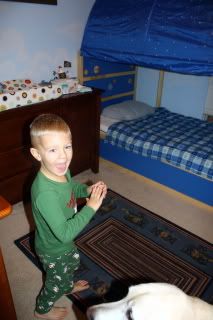 We headed over to my parent's house for the afternoon on Christmas Day, but first we skyped for the longest time with Mammaw and Grandpa, which the boys loved. They got to talk all about their new gifts and discuss the festivities. I know they miss their Colorado family a ton, and being able to see them even across a computer screen is a great bonus.
And even our trip driving over to Grammy and Poppy's house was fun, since the dogs were going for their inaugural ride in our mini-van (thanks to my parents for inviting them for Christmas!). Pierce kept feeding Dallas crackers from his snack trap and both boys thought it was quite hysterical.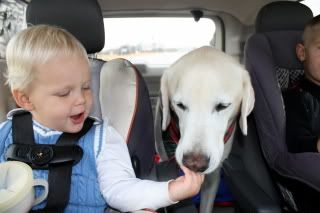 Our Christmas Day celebration at my parents was again full of fabulous food, and some great friends and family. The boys got to open gifts from grammy and poppy, as well as our extended family from Wisconsin. They got so many fun things! I don't know about any other parents of 3 years old, but I was quite amazed at Hayden's ability to whip through gifts. "Can I open another gift mommy" every two minutes. I was starting to wonder if he even SAW what he was opening, but luckily once all the gifts were opened, he settled down and explored them all, and is still enjoying each and every one. But my gosh, he would not give up until EVERY one was opened lol. I guess that is a kid thing.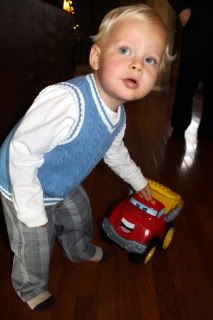 I'm so thankful for all three of my amazing and special boys, and for our extended family, and our friends, who have become party of our family. What a great Christmas! And just think, next year, we'll have one more little blondie to be thankful for