We have been so busy once again, and my blogging has fallen behind. We had out of town guests here for 10 days straight, and my work load is just mind boggling right now, with the storm surge model being released in just a few short months. So I am in over my head in just about every way. But we've had some really great times with a serious of old friends and family members who have traveled to see us.
We kicked off the fun with a visit from my best friend from college, who was here on business from San Francisco. Although she had met Hayden when he was very young, she had never met Pierce, so it was great introducing them all and showing her a little glimpse of our life here in Dallas. After the boys went to bed we got to catch up and laugh a lot. I miss her, but was glad for the brief visit!
That very same day, my grandparents arrived for a week long visit from Wisconsin. Hayden and Pierce are both obsessed with Gigi and Grandpa, and were beyond thrilled with their presence here, as was I! I love having my family around. It makes me feel so loved and protected and happy. Although I had a busy work week, we still managed to fit in several fun outings, including a girl's day spent entirely shopping! I haven't done that in so long, and although my pregnant body paid the price for walking all day, it was still well worth it, and we knocked out a lot of our Christmas shopping. It was also fortuitous that the Cowboys happened to play our home team, the Packers, while they were visiting, so we all dressed in our green and gold and celebrated a Packers victory (although that's not saying much considering how the Cowboys have played this year!).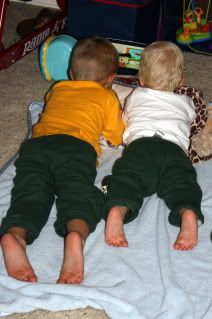 Finally, one of my best friends from my childhood and teenage years came to visit with her two little boys, who are the same ages as mine. The older boys had met as young babies, and again in September when we went to Wisconsin, and we very much looking forward to seeing each other. After what sounded like a bit of a harrowing flight alone with two boys, Nicole arrived, and the fun began. Let me tell you, a house full of little boys is CHAOTIC! A small house at that! But our two older boys are both such kind souls, and so sweet to each other. We only had really one tense moment, where some of the Thomas Trains had to go to "time-out", but otherwise their sharing skills were admirable, and you could tell they were extremely fond of each other. We kept a busy pace all weekend, with trips to Going Bonkers, the park, the Gaylord to look at trains, the Stockyards, a blastball game, AND we co-hosted a baby shower for our mutual friend Lindsey, who is expecting her first little boy in a month! Whew, it makes me tired just remembering it all haha. But Nicole is such a great mother, and it was a pleasure to hang out with her sweet, darling little boys, and to catch up and talk late into the night with an old friend who knows me so well, and who I have so much in common with. And it was also incredibly exciting to celebrate the fact that Lindsey is going to welcome her little boy into the world soon, after such a long journey trying to conceive him. We are all very blessed with our children and our lasting friendships.
Here are some photos of the boys from the Stockyards in Fort Worth. Like all decent Texan 3 year olds, these two chose Long Horn shaped sling shots at the souvenir shop, which made my husband ever so happy when they got home and showed them off! Nate thinks I take all the fun out of boyhood by depriving my children of bb guns and the like, so this was a step in the right direction in his opinion haha.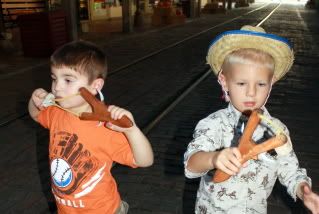 They all piled on a western wagon ride for the perfect photo op, although Piercey was a little under the weather and would not crack a smile that day! He sure does look cute in his Cowboy hat though!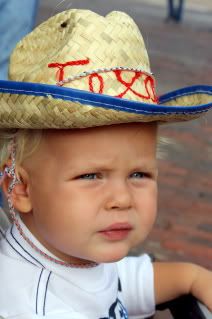 Last year Hayden would have run crying in the other direction at the sight of both a herd of longhorns coming at him, and even more terrifying, a mechanical bull with scary light-up eyes. But nope! Not three year old Hayden. I was even reluctant to let him on this moving bull, but he insisted, and loved the experience! Who knew that all those fears from last summer would just suddenly disappear, and this confident little man would emerge?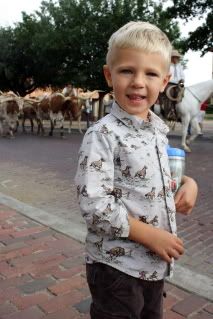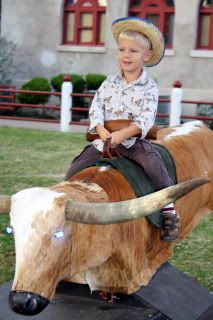 Here are some photos of my two friends from high school. We've been friends for about 18 years now, which is hard to imagine, but life just holds us all together! I love my friendships with these two, who know the real "me". Lindsey is expecting her baby boy in just 3 weeks! And here I am at about 26 weeks pregnant with baby girl. They are already betrothed haha.
And finally, some sweet ones of the boys. Hayden took Henry to his blastball game and apparently he is quite the little outfielder! They looked super cute in their ad-hoc uniforms and were so excited to go off and play baseball together. And Lindsey is like the favorite auntie who spoils them with books and attention and fun new toys, so they are totally smitten, and we snapped this cute shot of them below.
Finally, the "best buddies" as they called themselves, Hayden and Henry. I've rarely seen Hayden get along quite so well with a friend his own age for such a long period of time, but I think it's a credit to Henry's super easy-going nature and overall happy attitude. When he left Hayden to go home at the airport he said, "Hayden I love you so much" while giving him a big hug, and Hayden answered back, "I love you too Henry", and I think they meant it! It's hard not knowing when we might see them again....but the visit was great.