Hayden's grandpa and grandma Roberts sent him the coolest gift from Colorado - a stuffed monkey with a giant red cast on his leg! Now Hayden is not the only one with a cast :) He loves the monkey and whenever I ask him where his "friend" is he runs over to the monkey and gives it a hug or a kiss. Very cute. And he is always pointing at the red leg or knocking on it like he knocks on his own. Too funny. I had to take some photos and here they are.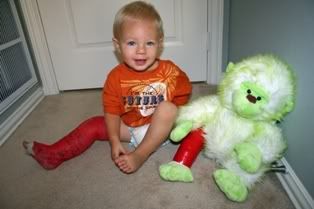 Here he is giving it a kiss
Well I just got home late last night from a business trip to Houston / Galveston, and now Hayden and I are off to Denver for the weekend this afternoon. Hayden's mammaw missed him so she sent us a plane ticket to come out which was so thoughtful. So we are busy trying to get re-packed and organized. Hayden hasn't been on a plane since he started walking, so it should be an adventure. I really hope he holds still! I tried to time our flight so that he would be napping during it, but I fear that he will be too excited to nap and then he'll arrive in Denver totally cranky and tired. We'll see how it works out! But he is going to meet his cousins Liam and Brylin and I'm so excited!!
The new baby continues to shock me with how much he/she moves around! I am constantly feeling kicks and rolls even though I'm only 17 1/2 weeks along. I was only feeling very faint kicks with Hayden by this point, but they always say you feel more quickly with your second. It is very reassuring though to know the baby is alive and well in there. We find out if it's a boy or a girl in only 11 days!! Up until now we have both been sort of leaning towards a girl, but last night we came up with a boy's name that we love, so now we are kind of leaning toward a baby brother for Hayden :) We shall see soon enough!