Well it's December 23rd, and I am officially DONE WITH WORK for the year! I've wrapped up a project that has been my main task for over 2 years now (since before I went on maternity leave with Pierce), and it feels so good to have met my goals with success, and to be able to now enjoy my family and the holidays without a weight of stress on me. Thank you to my whole family who sacrificied so I could meet these insane holiday deadlines!
And now it's time for fun. I finished just in time to be able to participate in some fun Christmas activities with my friends (whom I haven't seen in over a month), and my boys. Christmas in Dallas is BIG, just like everything else here, and there are no shortage of holiday themed events and festivals and displays. We discovered the most amazing model train display last Christmas, called the Trains at Northpark. It is actually a charity, which makes it really cool, and it's just a bunch of model train tracks filling a whole room at a local mall. First of all, this mall is spectacular in itself - it is Dallas shopping at it's finest. There are about 2 stores that I could actually walk into without feeling like "Pretty Woman", but the Christmas decorations are gorgeous, and the holiday theme is alive and well. The model trains are sort of separated into themed displays - like New York City, downtown Dallas, the Texas State Fair, the Polar Express (Hayden's favorite), the Grand Canyon, etc. Even as an adult, there is something wondrous and fun about model trains (we always had them as kids). We made a night of it with some friends, and the boys eyes were as big as saucers as they walked in and heard the "Polar Express" theme music playing, and saw trains as far as the eye could see. Hayden made sure to get each of us (adults included) conductor hats, and we set off to explore. "Thomas" and "Percy" even made appearances on some of the tracks, which thrilled Pierce. What a magical, fun evening with my family.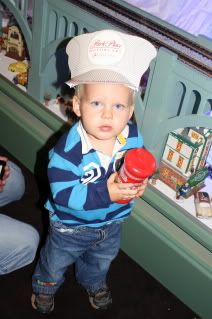 My best friend from high school, Lindsey, who just happens to live here with her husband, just had her first baby two weeks ago, Nolan. He is an absolute cutie pie, and we hosted them for a little impromtu pizza party the other night. I was a little nervous about having such a small and fragile little baby over, with my two rough and tumble boys, but I supposed such a meeting was inevitable, and Lindsey is amazingly calm and laid-back, so I hoped nothing too bad would happen! I got down the baby swing from the attic and set it up in the living room, and obviously my worst fears were confirmed as Hayden and Pierce BOTH climbed into it and began to swing and push each other violently high, all while giggling "BABY" and laughing like hyenas. Can you just picture a 7 lb newborn being exposed to this danger?! So frantically I got two toddler chairs down from the attic in an attempt to distract them, and just prayed for the best. Luckily I needn't have worried! They behaved like perfect little gentlemen, and were respectful of the baby and didn't get overly close. Hayden asked to hold Nolan, but we explained he was still too tiny, however Lindsey let both the boys come sit right next to her and gently touch baby Nolan's head and check him out. Pierce even gave him an eskimo kiss as he was doing his go to bed kiss routine. So not only was I proud of my boys, but I was just glowing with happiness that there I was, sitting wtih one of my best friends from childhood, and her new precious BABY, and my boys, and our husbands, and it just felt so right. These boys will grow up together, and it was fun to see them meet for the first time. It's funny, because there are three of us that have remained close since high school (I posted recently about our friend Nicole's visit), and we now have 5 boys between us, all 3 and under! How much fun are our gatherings going to be down the line with all these boys so close in age? I love it.
What happened next is not a happy story, but one that must be told nonetheless. Because of my work schedule, I couldn't travel to Colorado for Christmas this year, and we booked some last minute plane tickets for the boys to go for our annual family Christmas. Hayden was beside himself with excitement about both flying on a plane, and see his beloved Mammaw and cousins. So we arrived at the airport bright and early, and 1 hr and 45 minutes before their scheduled flight I might add. We were stuck in the "slow line" because we needed to add an infant to Nathan's ticket and couldn't go through the kiosk check-in and bag-drop. We began to get nervous as we saw our line was basically at a stand-still with only ONE ticket agent serving about 30 passengers with specials needs (pets, small children, missed flights, etc). I repeatedly told the airline employee manning the lines that my family was in jeopardy of missing their flight if something didn't happen quickly, but she was rude and dismissive of me, and told me their policy is to arrive 2 hours early for a domestic flight (first of all - since WHEN, and second of all, 15 minutes would not have made a difference at that point). Sure enough, once we finally got to the ticket counter, it was 35 minutes before their flight, and they were not allowed to travel. Instead, the counter agent suggested stand-by, but all the remaining flights for the day were oversold as it was. So my boys got in the security line and I left them, with no gaurantee of actually making it to Denver. Our worst fears were confirmed, as Nathan waited it out through FOUR stand-by flights, to no avail. What made it difficult is that they needed 2 seats next to each other (Hayden cannot sit alone at his age), AND Nathan has no priority status with American Airlines. Finally, 7 hours after arriving at the airport, and 5 hours after struggling alone with 2 small children in the airport, taking trains from one terminal to another chasing flights, my husband finally admitted defeat, and headed home. Although sadly their bags and carseats HAD flown to Denver on the original flight, which was just a further aggravation, but thankfully my parents had carseats we could borrow until we got our luggage back later that night (which we had to go pick up). Ugh what a mess!!! We are clearly planning to raise a fuss with AA and try to get our money back, but there is no gaurantee. Nate said that Hayden just sobbed everytime they didn't board a flight - it was so confusing to him! But I was so proud of all of them, and Nathan mostly, for keeping such a great attitude, and taking care of those boys under such stressful circumstances. Sadly they all missed Christmas in Colorado, and missed seeing their two new cousins who were recently born. But clearly they tried as hard as they could to get there! It was just not meant to be this year.
As much as I was sad to see them miss their trip, and sad for my mother-in-law, who was so hoping to spend Christmas with her son and grandsons, it still ended up being a nice family weekend for us. Nate was so proud of their good behavior at the airport that he just wanted to spoil them all weekend! It was cute. Mammaw had been planning to take them to the zoo in Denver, and Hayden was counting on it, so we decided to head up to the Gainseville Zoo with the boys on Sunday as a consolation prize. What an adorable zoo, and we had the whole place to ourselves!! We literally only saw 4 other families there the whole time! They have this great raised wooden walkway, with all the savannah animals (zebras, giraffes, big horn sheep, gazelles, etc) grazing below, and they also have great little interactive displays with the smaller animals. I was extremely impressed with the place, and we watched with pride as our boys enjoyed themselves to the max, and were so well behaved.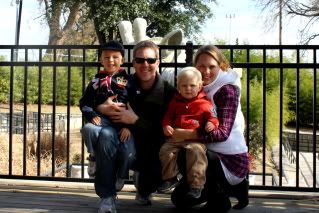 This is Hayden deciding that his brother wasn't moving quickly enough, and "escorting" him to the next exhibit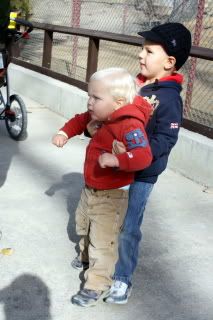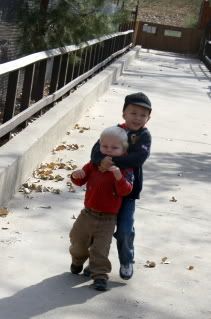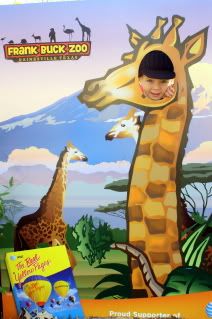 The petting zoo station was dominated by one very hungry goat!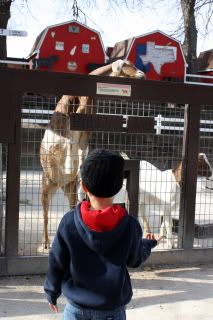 The missed trip to Colorado also meant that the boys could attend a few playdates with their group of friends here in Texas, whom they hadn't seen since before Thanksgiving. Again, the circumstances for them being home were sad, but the experience of sharing Christmas with their best buds was nice afterall. My friend Eren hosted a pajama party / sugar cookie decorating playdate, which was a blast! In particular, Piercey J took a new likely to his friend Annelie (aka Muffin), and there was a lot of affection going around! Hayden was thrilled to see his friends, and couldn't stop hugging Jack. Every year we try to line the kids up for a couch photo, and it keeps getting harder as they get older and more free-willed and squirmy lol. So here are some attempts at a Christmas group shot, as well as some of Piercey J and his new girly friend Muffin.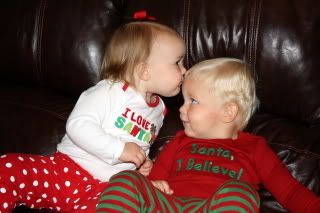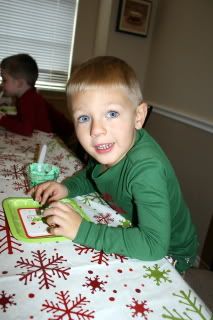 Speaking of friends, I've talked about Hayden's (girl)friend Tatum from school. Well yesterday her mom and I arranged a park playdate for the afternoon. When we pulled up to the park, Tatum was already there, and I gave Hayden permission to head up there while I got Pierce out of his carseat. Well Hayden took off RUNNING at top speed, flung open the gate of the park, as simultaneously Tatum came down the slide and went running for the gate from the other side. They embraced like long lost loves, and kept saying, "I've missed you so much!". It was like something out of a movie! Keep in mind - it's been 2 weeks since pre-school ended, and they are 3 years old. Wow. So much love!! They were absolutely adorable, and after spending some time with Tatum, I can see why Hayden enjoys her company so much. She is a bit of a tom boy, and just very friendly and fun and up for anything. I think Hayden already has great taste. Sadly we had to part ways eventually, but rest-assured, today Hayden asked to write Tatum a letter. Nate sat with him and wrote out what he wanted to say, which included, "Tatum, will you go to a movie with me", and "I think you're really nice" lol. Where does he come up with this stuff? Soooo cute.
Yesterday was midwife appointment day for me, and I decided to take Hayden along for a change, so he could hear Ruthie's heartbeat. My midwife was so amazing with him, and let him pull a chair up next to the exam table, and she let him feel around on my tummy and pointed out where Ruthie's little bottom was, and back, and head. Then she let him hold the doppler while she found her heartbeat, which thrilled him. Finally, she actually let him listen to his own heartbeat with the doppler, while explaining that his beats slower because he is bigger. As we were leaving Hayden called, "Thanks! I'll see you when my baby sister is here!". Adorable. We then proceeded on to Chili's for a mommy and son lunch date, which was just too much fun. He had macaroni and cheese and a special raspberry lemonade, and we just chatted about a million subjects. He's just getting so grown-up, and sweeter and smarter by the minute. Unfortunately I also took him shopping for a gift for grammy, and he promptly told her what it was as soon as we walked in her door, sigh. Note to self, do not let 3 year old pick out a gift, then tell him it's a big secret. It's too much of a temptation for him haha.
Well this post has gotten long enough! I hope everyone has a very Merry Christmas and I'll be back after the holidays!